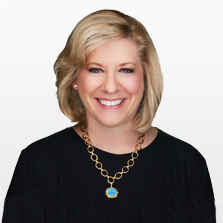 As executive vice president and chief operating officer of Media Operations for TEGNA Inc., Lynn Beall leads operations across the company's 64 broadcast stations that reach approximately thirty-nine percent of all television households nationwide. This includes setting the vision and strategy for content and sales innovation initiatives that are transforming local journalism and marketing solutions in the digital age. Due to these efforts, TEGNA has won more national Alfred I. duPont-Columbia University, Edward R. Murrow and Peabody awards than any other local broadcaster in the past five years.
Beall is currently chair of the CBS Television Affiliates Association Board, vice chair of the National Association of Broadcasters Television Board and serves on the T. Howard Foundation and National Association of Broadcasters Leadership Foundation (NABLF) Board of Directors. In 2018, Beall received the Alliance for Women in Media's Gracie Leadership Award recognizing the media's industry's outstanding business leaders.
Previously, Beall was executive vice president and senior vice president of Gannett Broadcasting, positions she held while President and General Manager of KSDK-TV, the NBC affiliate in St. Louis, MO. Earlier, Beall was general executive of Gannett Television where she worked with stations on special projects and retransmission agreements. Prior to her corporate roles, Beall held marketing, programming and sales positions at five TEGNA stations, including WUSA in Washington, DC; KPNX in Phoenix, AZ; KTHV in Little Rock, AR; WKYC in Cleveland, OH and KSDK in St. Louis, MO. She has twice been named Manager of the Year during her tenure.
She has previously served as a board member or advisor for organizations including the Cardinal Glennon Children's Hospital, the Muscular Dystrophy Association, the St. Louis affiliate of the Susan G. Komen Breast Cancer Foundation, the Urban League and the St. Louis Sports Commission Board.