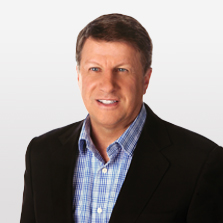 Dave Lougee is president and CEO of TEGNA Inc., one of the most geographically diverse broadcasters in the U.S. He also serves on the company's Board of Directors.
Prior to becoming CEO, Lougee spent 10 years as president of TEGNA Media. During that time, the company acquired Belo Corp. and London Broadcasting, nearly doubling its broadcast portfolio.
Prior to joining TEGNA, Lougee served as executive vice president, media operations for Belo. He also served as senior vice president and president and general manager of TV and cable operations in Seattle/Tacoma. Earlier in his career, Lougee was vice president, news at WRC, the NBC owned and operated station in Washington, DC and vice president, news director at TEGNA's KUSA in Denver.
Lougee is a past chairman of the National Association of Broadcasters (NAB) Board of Directors as well as the NBC Affiliates Board of Directors and the Television Bureau of Advertising (TVB) Board of Directors. He is currently vice chairman of the BMI (Broadcast Music Inc.) Board of Directors and serves on the Board of the Broadcasters Foundation of America.
Lougee is a graduate of the University of Colorado and attended the Stanford Executive Program at the Stanford Graduate School of Business in 2004.
He and his wife, Danni, reside in Northern Virginia.