The Ultimate Guide to TV Advertising
Diving into the world of TV advertising doesn't need to be complicated or intimidating. We've enlisted the help of industry experts at TEGNA to illustrate the benefits a brand can see with TV advertising and dispel some common myths and concerns in The Ultimate Guide to TV Advertising! Thanks to our experts Jeff Beacham, Steve Chase, Bryan Goldmark, Susan Marley, Julie Mecklenburg, Dan Meyers, Dave Neway, Frank Pallino, Wes Rodda, Pat Sullivan, WGRZ, WUSA, WTSP, Locked On Podcast Network, KING, KUSA, and TEGNA.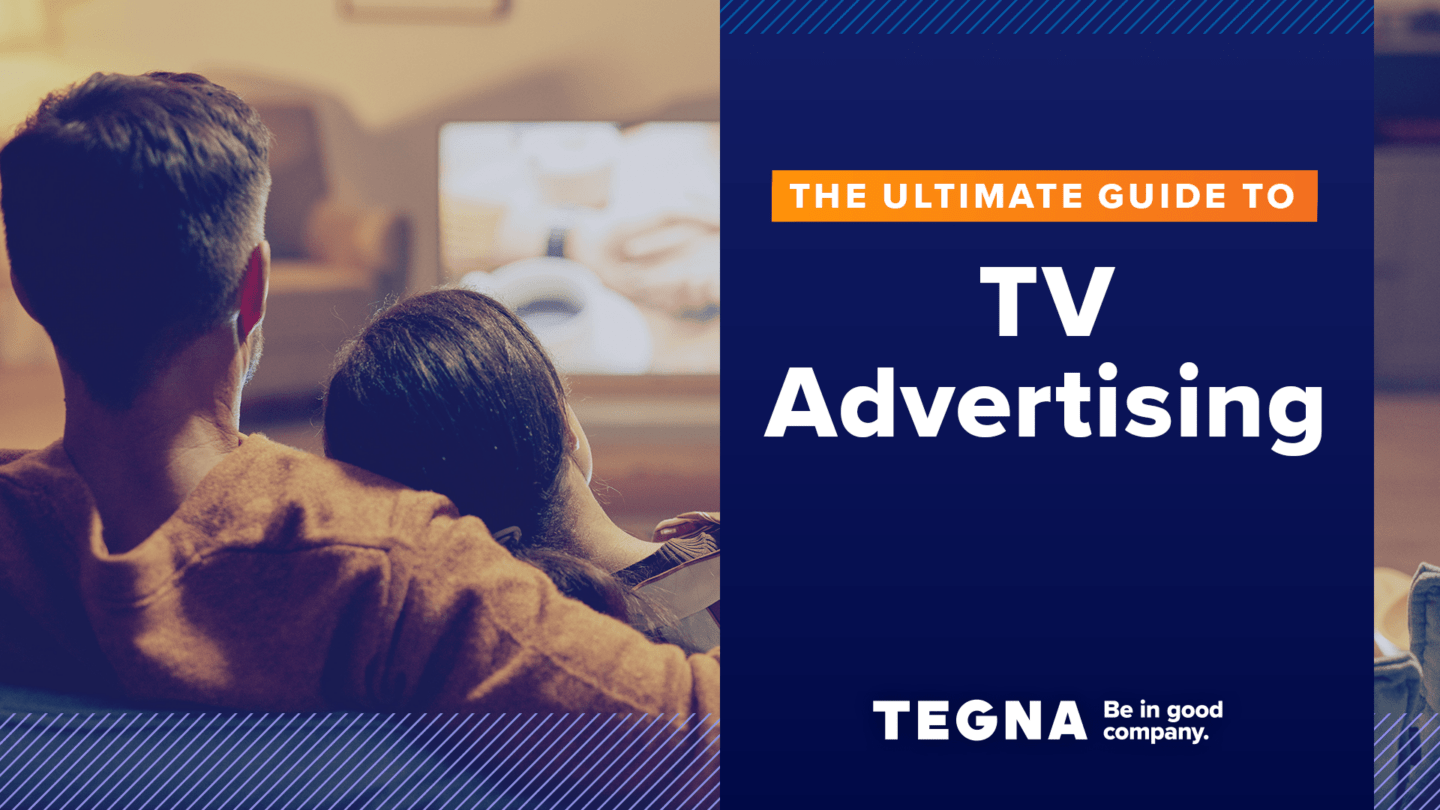 The Ultimate Guide to TV Advertising​​

​​

​
It's no secret that Americans love to spend time watching TV. On average, we spend 5 ½ hours watching broadcast or cable TV daily, making it a popular platform for brands to reach audiences with messaging and advertisements in visually creative ways. Better yet, it's a super-effective way to create brand awareness and influence a viewer's purchasing decisions.  
Diving into the world of TV advertising doesn't need to be complicated or intimidating. We've enlisted the help of industry experts at TEGNA to illustrate the benefits a brand can see with TV advertising and dispel some common myths and concerns.  
Welcome to the Ultimate Guide to TV Advertising! Let us introduce our TEGNA TV advertising experts:  
What is TV Advertising?

​

​
TV advertising remains one of the top ways a brand can generate business and should always be considered when media planning. TV ads are visual mediums, usually 15 to 30 seconds long, that tell a brand's story and show off its products or services with the goal of getting the viewer to take action.  
TV ads also allow businesses to build brand awareness among a national audience or connect to live and local audiences. By creating emotional connections, leveraging the power of celebrity, or leaning on nostalgia, TV ads can help a brand get the phones ringing and get people visiting the brand website or brick-and-mortar location.  
In the world of TV advertising, there are several types a brand can consider. Depending on what your brand goals are, your brand can utilize the following: 
Standard TV Advertisements / Broadcast TV Advertisements

Local Advertisements

National Television

Streaming

Infomercials

Product Placements
Is TV Advertising Still Effective?
Our experts agree. The short answer is a resounding yes. TV advertising is still effective. It's worked and driven tangible results for thousands of our partners, helping to make TV the second-most profitable advertising medium in the United States. 
"Every market has clients that have been using broadcast for years, and they wouldn't keep using it if it didn't work," says Julie Mecklenburg, Director of Sales at TEGNA's WGRZ in Buffalo. "We have a walking portfolio of references – all a prospect has to do is turn on the TV and ask that business what it's like to work with the TV station." 
Even better, we can access data proving that TV advertising is effective with tools like TEGNA Attribution. 
"With TEGNA Attribution, we can show you when someone viewed your TV commercial and visited your website," says Susan Marley, Senior Account Executive at WTSP in Tampa Bay. "That's why successful companies like Google and Apple chose TV to reach their customers." 
9 Advantages of Television Advertising

​

​
TV advertising, when done right, adds significant power to all other marketing tactics. As viewers continue to spend more time with TV than with any medium, TV is still the top influencer on buying decisions. It's also the most efficient cost per thousand of any medium out there that allows you to reach people in all areas of the sales funnel.  
This power is demonstrated through the following factors that give TV advertising the edge over other advertising mediums:  
1. Low Cost & High ROI
The perception that TV is too expensive is one of the biggest challenges the industry faces, but it's one that we can easily dispel. "I think it's natural for people to be concerned that TV is too expensive," says Frank Palino, Director of Sales at KING in Seattle. "Because they usually hear about advertising around events like the Super Bowl, they think that costs are associated with that, and that's just not the case."  
"If your goal is to win an Emmy, you can spend as much money as you would like, but if your goal is about results, you can have a really solid brand and call to action advertising at a really affordable rate."
Better yet, that rate doesn't need to include spending big bucks on hiring a production crew, actors, and more.  
"At WGRZ, we can create commercials for our partners without a full video shoot on-site," says Jeff Beacham, Local Sales Manager at WGRZ in Buffalo. "We can use photos, graphics, stock footage, and audio and still deliver results."  
"With the right creative message, TV campaigns will pay for themselves and then some. Can you create a compelling enough message to sell (an average of) 20% of a penny's worth of goods? Yes, you should be able to," adds Beacham.  
Steve Chase, Director of Sales at KUSA in Denver, adds that TV advertising is more affordable than not adding TV to the marketing mix at all.  
"What is the cost of not advertising? What is the cost of your competitors gaining share and taking your potential customers? What is the cost of not growing?" Chase asks. "Advertising is the insurance of the future. TV is the most economical way to reach thousands of the right customers. When coupled with a full campaign OTT and digital strategy, you will see the results in real-time," says Chase. 
Duane Charping, CEO of Roof Fix in San Antonio, can attest to TV's low-cost and high ROI.  
"TV can be scary for people who don't understand how the cost works. It looks really expensive, but it's not," Charping advises. "It's probably the smartest marketing strategy I've ever chosen because it's by far the least expensive with the biggest turnaround."  
2. Attribution and Measurement
Running a business takes passion, persistence, and a perpetual focus on performance. If you're spending a lot of money creating and producing a TV ad, you want to know it's working. In fact, an old saying, as cliche as it might be, goes, "I know that half the money I spend on advertising is wasted. I just don't know which half."  
Once seen as a major limitation, TV campaigns can be measured and tell you which half is being wasted, if at all. TEGNA Attribution is just one example, and it collects real-time data for TV shows and their accompanying ads. Then, viewership metrics are connected to outcome metrics such as website visits, app downloads, and more. This data can be used to prove the value of TV/streaming schedules to drive business results, make optimization decisions, and maximize the efficiency of paid media. 
"Going back to cost, we hear TV is too expensive from many businesses," says Marley. "But with the addition of attribution, we can tie a campaign back to an ROI and show how effective a campaign was and how many leads it delivered." 
3. Targeting Ideal Audiences
Whether your brand is trying to reach local or national audiences, TV advertising allows advertisers to tailor their message to a specific audience by targeting specific demographics and geographic locations. 
"You can certainly be really targeted and reach audiences that are more likely to use your services, but also those that are considering your services for the future, all in one step," says Palino. 
For example, let's say your local gardening brand aims to target women between the ages of 25 and 50. You can advertise alongside content and programming that's talking to these consumers, whether that's via The Twist Network, a women-oriented multicast channel featuring lifestyle and reality programming such as TV hits like Flipping Out, Clean House, Queer Eye for the Straight Guy, and more. In contrast, aligning with sports content, such as March Madness, could help brands reach a large population of college-educated males. 
A study from Sharethough found that of viewers who don't pay attention to TV ads, 71% said they would pay more attention if the ads were better targeted to their interests, emphasizing the importance of knowing your customers and effective targeting. 
"To successfully hit a target audience, I always recommend that an advertiser gets with our research director to find the best-performing programs for their target audience," says Marley. "Once the campaign begins, we will monitor the monthly attribution reports and make optimizations to run during better-performing shows for the target audience." 
4. Reach an Attentive Audience with High Recall & Purchase Intent
TV demands attention, and when ads are delivered on a big screen, brands get it. CivicScience found that 25% of US adults pay the most attention to TV ads compared to ads viewed online, on social media, radio, billboards, newspapers, and magazines. On top of that, MediaScience finds that viewers are more likely to remember TV ads than mobile ads by 40%. 
Not only do larger screens demand more attention than the screen of a smartphone or tablet, but TV ads also have less direct competition on that screen. TV ads are viewed one at a time and in an immersive fashion. Whereas, on social media, that same ad might be up against other ads in the same window on a computer screen or adjacent to content from friends and family in the news feed. 
5. Create Memorable Branding Through Visualization & Audio
There are a lot of fun and creative ways to develop messaging, and you can have different creative messages for different programs or targets you're trying to attract. By leveraging sound and enticing visuals, commercials make brands memorable, which improves brand awareness and increases ad recall.  
"Broadcast TV is the quickest, most efficient means to put a business's branding and call to action forward in front of the right target audiences," says Beacham. "It's visual, and you can see it. For food, you can practically taste it. For a home remodel, you can see the beauty.  For finance, you can potentially see the person managing your money." 
As for sound, how often have you gotten a commercial jingle stuck in your head? Whopper, Whopper, Double Whopper, anyone? The same goes for catchphrases.  
"You want your kid to sing the song," says Palino. "The right sound​ ​bites in ad creative can improve the ad recall and strengthen the call to action, leading to more people searching your website for your products or services." 
6. Showcase Compelling Storytelling
When audiences become captivated and emotionally connected to an ad, it improves brand awareness, ad recall and increases purchase intent. Therefore, compelling emotional or humorous storytelling in TV advertising can be a key sales driver. In fact, research cited in Psychology Today shows that an emotional response to an ad will increase purchase intent — "by a factor of 3-to-1 for television commercials." Additionally, "a brand is nothing more than a mental representation of a product in the consumer's mind. … The richer the emotional content of a brand's mental representation, the more likely the consumer will be a loyal user." 
To tell a compelling story to increase brand loyalty, you can use The Farmer's Dog and Google's Loretta as examples using emotional storytelling or By The Yard for a humorous approach. 
7. Garner Trust Through Halo & Hollywood Effect
Trust is crucial for TV and advertising; local broadcast news tops the category. Among its findings, TVB found that local broadcast news is the most trusted platform for viewers – and that trust halo extends to brands that advertise alongside this trusted content. Additional studies have shown that consumers are more likely to trust – and buy from – brands that advertise alongside sources of information they trust, such as local TV news stations. 
"There's definitely a brand affinity that develops when advertising with a local news station," says Palino. "We certainly vet our clients and don't just put anybody on the air. Because of this, our viewers and advertisers' customers react positively." 
Charping also knows this first-hand. 
"There's loyalty that comes from the TV industry that I really appreciate," says Charping. "They called you because they saw you on TV. They trust you because you're on TV, and they relate to you and the KENS5 family." 
According to Mecklenburg, this trust can also be attributed to something called the halo effect or Hollywood effect.  
"TV makes an ad feel personal with the power of sight and sound, and as a viewer, this helps build trust," says Mecklenburg. "For those selling services, due to the 'Hollywood effect,' it could increase a brand's sales/close ratio because their trust will be higher because viewers have already seen the business on a big screen." 
8. Hitting Home Runs with Sports & Live Events
Nothing brings communities together like sports, and live games and events fuel a jump in linear broadcast viewing numbers – like the 113 million who tuned into Super Bowl LVII or the 12.55 million viewers who tuned into the 2023 Grammy Awards.  
"Linear TV ads within live games remain one of the most popular and effective ways to reach sports fans, but why? In a word, passion," Bryan Goldmark, Head of National Sales & Brand Partnerships at Locked On Podcast Network, notes. "The level of passion we see from NFL fans is nearly impossible to recreate, which is why advertisers are so eager to tap into that energy and engagement after the touchdown celebration cuts to a commercial break." 
Palino adds, "At KING, we carry Seahawks preseason games, and for our partners using Attribution, we know that the local affiliation absolutely stands out for them." 
But it's not just NFL football that drives results, and brands can also align with amateur sports such as high school baseball or with local athletes participating in the Olympic Games as well.  
"Advertising around local sporting events can reaffirm a brand's place in the community," says Dave Neway, VP of Ad Sales Marketing at TEGNA. "Big games offer advertisers a lot of frequency and exposure to a valuable audience, and by aligning with sports content, your brand can be the talk of the town." 
9. Community Connection
A recent study from ZenoGroup found that 94% of global consumers feel it's important to engage with brands with a strong purpose – like advocating for social justice, helping at an animal shelter, or donating to food banks. On top of that, 76% of consumers say that when a company leads with a purpose, they are more likely to trust and be loyal to that company.    
Local TV advertising – including sponsorships and partnering with local TV stations for community events – allows brands to showcase their commitment to the community, which in turn helps to generate trust and further build brand awareness.   
As one of the nation's largest local media organizations, Team TEGNA is committed to ensuring our content reflects the diverse communities we represent. 11Alive's Voices for Equality is one example of how our partners, such as Hands on ATL, Georgia Power, and Western Governors University, can speak up and strengthen their bonds in the community by aligning with a good cause. 
Challenges with TV Advertising
While the benefits are many, TV advertising also comes with its fair share of challenges that must be addressed to ensure effectiveness. 
Distracted Viewers & Ad Skipping
With so many ads competing for viewers' attention, it can be difficult for a single ad to stand out and make an impact – especially if the audience is disinterested or distracted.
Many viewers use DVRs or streaming services to skip through commercials, and a discouraging 2021 study from Sharethough found that more than half of TV viewers don't watch ads. During a commercial break, 64% will grab their phone, 21% will change the channel, and 15% will leave the room to do something else. Others will put their TV on mute for a multitude of reasons. Why do these viewers tune out? The survey found that 71% said they would pay more attention if the ads were better targeted to their interests. 
"What we know is that boring ads are pretty much viewed as distractions by consumers," said Dan Meyers, Marketing Director at WGRZ. "You really need to break through the clutter and separate yourselves from the competition." 
Targeting
Traditional TV ads need to catch up in terms of targeting when compared to their digital counterparts. We know that TV reaches large audiences, and targeting specific demographics like age or household income can be done using Nielsen and ComScore data and programming ratings. However, streaming and digital platforms allow advertising to target more specific groups based on behaviors, purchasing history, and more.  
4 Tips for Successful TV Ad Placements
Before knowing what type of TV ad placements may benefit your business, you must know your target audience, goals, and KPIs.  
1. Study Your Demographics: "Know the demographic target of your client and the things they like to do or the things that interest them," Pat Sullivan, Senior Manager of Strategic Partnerships at WUSA, advises. "It also helps to know the strengths of your local station." 
"I always suggest getting with our station's research director to find the best-performing programs for the target audience," says Marley. "Once the campaign begins, monitor monthly attribution reports and make optimizations to better-performing shows."  
2. Align Campaigns with Specific Goals: WGRZ's Beacham and Mecklenburg dig in further, suggesting what type of campaigns best suits your goals.  
"Are you trying to reach volume and the masses? If so, high-reach programs could be significant," says Beacham. "Or if your message is more complicated, it might take longer to sink in. Then, you'll want to balance some frequency with the high-reach approach." 
"Is it event-focused and time-sensitive? Are you pushing a sale or tickets to an event?" asks Mecklenburg. "A lead-up strategy would be essential in this case, as opposed to a branding and evergreen campaign where the snowball effect is needed for the most successful campaign." 
3. Focus on Creative: The most important piece of TV ads is creative. It captures the viewer's attention and creates an emotional connection with the advertised brand or product. It makes the difference between a forgettable ad and a memorable one, leaving a lasting impression on viewers. 
Wes Rodda, Director of Marketing at 11Alive in Atlanta, suggests telling a story of what your brand represents versus selling a product.  
"Aside from sales, what does your brand stand for? What's the problem you're solving? What is the connection the brand has to people? Create a marketing message that isn't about pushing a product, but creating a field," Rodda says. "Advertisers need to be open to doing things that might be out of their comfort zone. If your brand messages aren't the right tone, your creative isn't going to be effective."   
4. Combine TV with Other Channels: Consumers often need multiple touchpoints with a brand before they convert. Cross-channel marketing campaigns are highly effective since they help drive brand awareness. Combine the power of TV with your digital campaigns for a higher return on investment.
3 Common Mistakes to Avoid with Your TV Advertising
1. Irrelevant or Ineffective Creative
If your TV ad campaign falls flat, the problem might not be the platform. You need to ensure you have a powerful script, clear and to the point but also engaging. Know that you don't have to fit everything into one 30-second spot (nor should you try!), so make cuts where necessary. The best TV ads come across as authentic and relatable, with talent, tone, and creative details aligning with your target audience. It's also very important for your creative to include a strong call to action so that once you've captured their attention, they know what to do next.
2. The Wrong Schedule
You need to know which stations your customers are watching, which programs they're watching, plus when and how long they're tuned in. Also, keep in mind the importance of frequency. If they see your ad only once, there's a good chance they will forget it, while seeing it at every other commercial break is likely to do more harm than good. Finding the right balance and schedule takes research and expertise, representing an area where professional media experts can assist.
3. Thinking There's No Room in the Budget
The notion that you can't afford to advertise on TV is a misconception that can cost you in many ways, from brand awareness to sales. Your media partner should offer reasonable production costs that work with your budget. They should also be able to help you allocate enough of your budget so that your ad can run with the right frequency to make an impact and understand how to help you repurpose video content for channels beyond TV to extend your investment further.
How Long Should a TV Advertising Campaign Last?
Each business is as unique as a fingerprint, so the length of an ad campaign will differ based on the campaign's goals. However, it's best practice to let campaigns run for at least three months.  
"We never recommend less than three months to our clients, ensuring we have enough data to prove the campaign's effectiveness," says Marley. "Results can continue for years to come!" 
"We look at marketing like investing in your 401K, not day trading. It's investing, not gambling," says Beacham. "If you run a campaign long enough, the right way, and have proper messaging – then it'll absolutely work over time. I tell clients trying to build their business that we typically do 6-12 month campaigns. If you do a month of a branding campaign, you might get business, or you might not. I generally like to ask for at least three months to really get a feel for what it's like to advertise on TV." 
Chase agrees but adds that campaigns should also run "until the results are diminishing or until a product/category is experiencing reduced growth." 
Which Industries Can Benefit from Television Ads?
"All industries can benefit from TV advertising if it's done right," says Sullivan. It is not a one-size-fits-all approach and infinite options exist for executing when working with a TV station. 
"Any industry looking to grow their business and create awareness, build their brand and drive sales/results will benefit from running TV ad campaigns," says Marley. "Pair TV with OTT streaming, and you'll see real power."  
Digging more into specifics, home service companies, healthcare companies, and auto dealerships benefit from TV advertising regularly.  
Home Services:

"Home improvement companies with high ticket services that are B2C are the obvious brands that can benefit from TV advertising. They advertise all the time, which makes a ton of sense," says Beacham. "If you sell one roof, it could pay for the whole campaign and then some, not even considering future clients and branding/awareness benefits." 

Healthcare:

Healthcare companies can use TV advertising to educate the public about health issues and the benefits of their products or services. This helps build trust and establish the company as an authority in the industry. Additionally, healthcare advertising is subject to strict regulations, and companies must ensure that their messaging is truthful and not misleading.

Dealerships:

A

uto dealerships can use TV advertising to promote new models, showcase their features and benefits, and highlight promotional deals, such as sales or financing offers. TV advertising can give auto dealerships a competitive advantage by differentiating them from other dealerships in the market. By showcasing their unique features or benefits, they can stand out to potential customers.

 
Examples of Effective Television Advertisements

​

​

​
​​​What makes an effective TV ad? Below are some examples of TV advertising success stories from brands that have teamed up with TEGNA.​​ 
Penn Dixie Monster Uses Fun Creative to Create Memorable Ads
​​
Giving credence to the fact that all industries can benefit from TV advertising, this creative from Penn Dixie Fossil Park and Nature Reserve, produced by WGRZ, shows that there's nothing wrong with a silly message. 
Aurora Mental Health & Recovery Uses Storytelling in its TV Advertising

​

​
Sponsored content is also an effective way for a brand to send a message, and "Unpacking Perfect" is an example coming to us from 9News in Denver. The sponsored content series, produced by 9NEWS in partnership with Aurora Mental Health & Recovery, is about the human chase for perfection. The series is about self-worth and both the comforts and perils of comparison. Everyone has strengths and weaknesses, and this series underlines the importance of telling an authentic, emotional, relatable story to drive results. 
iRestore Generates ROI through TV Advertising

​

​

​

​

​
Home service companies, like iRestore in St. Louis, can also attest to the power of TV advertising. "Since partnering with KSDK, we've seen tremendous success. We've seen our stock rise in the local community regarding recognition. Customers feel a little more at ease when dealing with somebody they've recognized and seen on TV," says Kirk Kupsky, owner of iRestore. That's because Kupsky has been a fixture on KSDK's Show Me St. Louis, the station's lifestyle show, and has run ads alongside news content, including severe weather alerts, on both linear and streaming platforms. 
How to Get Started with TV Advertising
Getting started with TV advertising isn't as difficult as you may think.  
"Advertisers can always make a call to a station's sales department," says Sullivan. "On the flip side, when an Account Executive calls you, accept the call. It will change the trajectory of your business." 
Mecklenburg agrees, adding, "There's so much perception of not wanting to meet, but it's just a consultation. We want you to be transparent. We're marketing experts and are only there to help brands in the areas we can help!" 
Once contact has been established, Marley likes to set up meetings to learn more about the business and its goals. "I will research your category and review your website, but it's always best to help me understand your goals and expectations for your business before providing recommendations," she advises.  
Lastly, Chase adds, "It's easy to get started. Help our team understand your most significant opportunity, and they will work on a solution to drive the right leads, measure the results and optimize the campaign to improve results continuously."
​​Contact TEGNA today to get started with TV advertising.​
Frequently Asked Questions
Do TV Advertisements Work?
Yes! TV advertising is still effective. It's worked and driven tangible results for thousands of our partners, helping to make TV the second-most profitable advertising medium in the United States.
What Impact Do Digital Channels Have on TV Ads?
Digital channels have had a significant impact on TV advertising in recent years, contributing to competition for ad dollars and increased fragmentation. However, digital advertisements can also work in parallel with your TV advertising campaigns. By combining the power of digital channels with TV ads, brands benefit from more touchpoints and engagement across platforms. 
What is the Future of Television Advertising? 
Based on changing consumer behaviors, advertisers must be agile and adaptable to stay ahead of the curve as the landscape evolves. Targeting advertising will improve, attribution and measurement will continue to develop, and advertisers would be wise to invest in campaigns that are a mix of linear and streaming platforms to drive the best results. 
How Much Does It Cost to Advertise on TV?
The perception that TV is too expensive is one of the biggest challenges the industry faces, but it's one that we can easily dispel. If you aim to win an Emmy, you can spend as much money as you want. If your goal is about results, you can have a solid brand and call to action focused on advertising at a really affordable rate. With the right creative message, TV campaigns will pay for themselves and then some.​