How to Market to Homeowners & New Buyers: 7 Ways
Stay ahead of the game and proactively market to homeowners and new buyers. Discover which tips and tricks can help you reach success!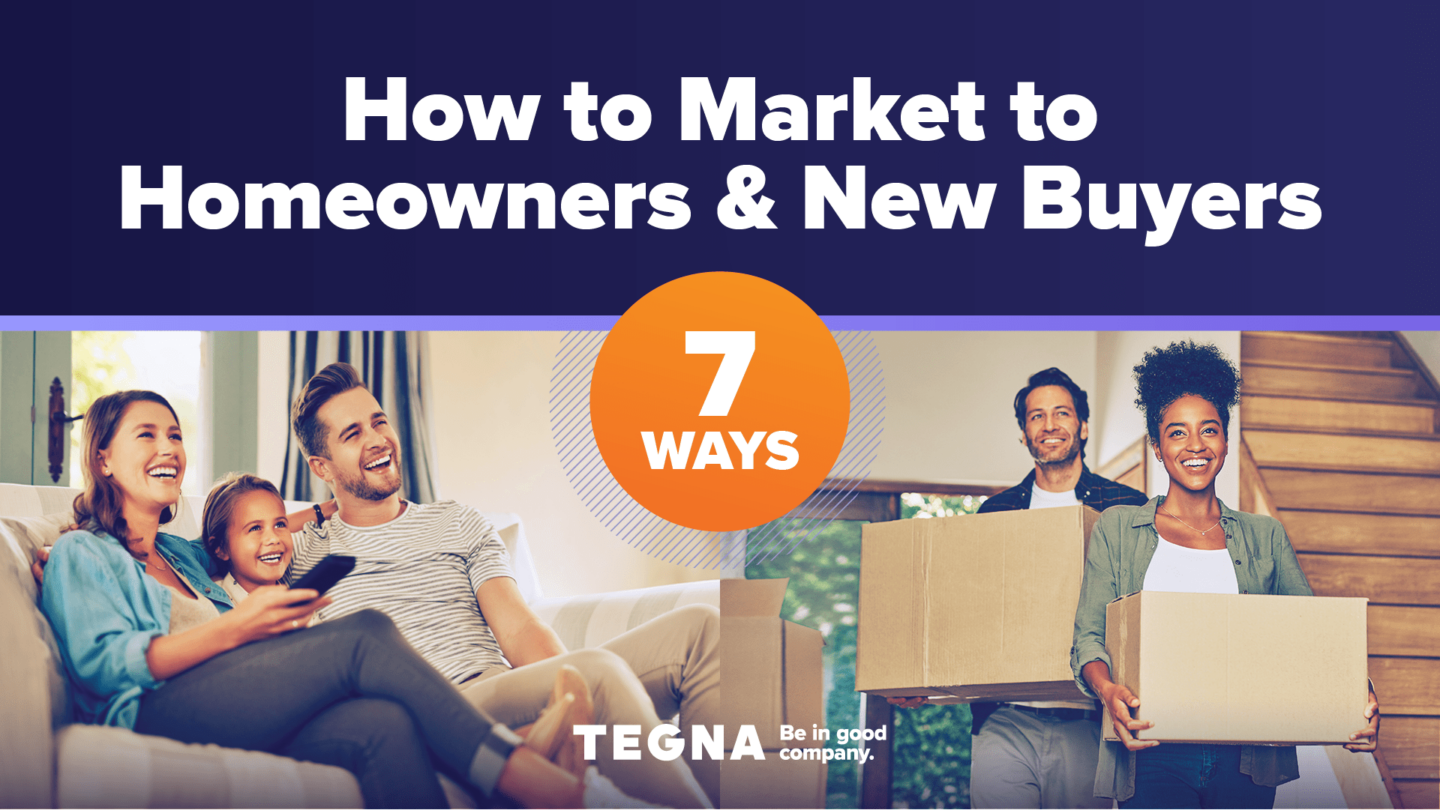 Whether you're a home improvement brand, in finance, essential services and utilities company, or retailer, homeowners are a coveted audience.
With stable purchasing power and higher disposable income than renters, homeowners, and new home buyers offer brand advertisers the potential for long-term customer relationships because homeownership is a deep-rooted commitment that carries a sense of pride and achievement. Homeowners normally won't let their home fall into disrepair and may regularly require ongoing maintenance, repairs, upgrades, and particular products and services.
But how should your brand best reach and connect with homeowners and new home buyers? This guide has all the best practice tips and tricks you need to create brand awareness, make meaningful connections, and increase business among this valuable audience.
An Overview of Marketing to Homeowners
Marketing to homeowners and new home buyers involves strategies and tactics to capture their attention, interest, and loyalty as a target audience. Effective strategies understand and address their specific needs, preferences, and challenges, such as home improvement, maintenance, decor, appliances, security, and energy efficiency, just to name a few.
The key to developing resonating campaigns is a deep understanding of the homeowner demographic – age, income level, location, lifestyle, and preferences. Conducting market research and creating persona profiles can help identify key insights and segmentation opportunities within the homeowner market. 
Media partners, such as TEGNA, can provide insights on this demographic, and we've recently released

A Look Into the Consumer Mindset of Home Services Outlook for 2023

. For example, as the median home age in the country continues to increase, homeowners are increasingly focusing on home system upgrades such as plumbing, electrical, and home automation.
Once you understand your target audience, you can use these insights and trusted media platforms to highlight your brand's solutions, provide educational content, showcase your brand expertise and trustworthiness, emphasize sustainability, show community support, and personalize or customize messaging to connect with the target audience. Doing so will only help your bottom line.
5 Types of Ads to Reach Homeowners
Brands can reach homeowners with various advertisements to engage with audiences and promote their brand effectively. Some common types of ads include, but are not limited to, the following:
1. TV Advertising
TV advertising is one of the most effective and profitable ways brands can reach a large and engaged audience. TVB finds it is the best way to influence a consumer's purchasing decisions, helping to make it the second-most profitable advertising medium in the United States. Common objections say TV campaigns are too expensive, but with the right creative message, TV campaigns will pay for themselves – and then some.
2. Streaming
Streaming TV offers significant opportunities, including advanced targeting, extended reach, and interactive content. You'll be able to leverage the power of local, measure results, and make data-driven optimizations. Streaming is even more effective when you pair it with linear broadcast. Just ask Oakwood Homes, a home builder in Colorado. "This strategy has been a huge win for us," says Kyleigh Shaw, former marketing manager at Oakwood Homes. "We've exceeded our sales goals. Our website traffic jumped more than 50%, location visits increased, and virtual tour videos were up 100%."
"The combination of TV and OTT is great because it gets your message to the right people," says Jennifer Kempton, Account Executive at TEGNA's 9News in Denver. "TV is amazing when it comes to reaching the masses through habitual programs that they watch daily, like the news, and digital is a great way to hit a more targeted audience and individuals that you deem your ideal clientele."
3. Local News Websites
Homeowners are active in their local community, and their local news station is where they turn to for the latest news, sports, traffic, and weather reports to inform their day. Online advertising, such as video ads, display ads, native ads, and high-impact units with your local news station's websites and apps – such as 12News.com in Phoenix – can reach an engaged and loyal daily audience within a trusted, local community environment to increase brand awareness and drive conversions.
4. Paid Search and Social
Don't choose between TV or digital. A cross-platform strategy can increase your impact and engagement. You can use social media and paid search ads to target and retarget audiences that have seen your TV ad and are actively searching for related keywords such as "plumbing services near me." Seeing this ad will encourage engagement and drive them to act further, like setting an appointment.
5. Email Marketing
Adding email marketing to a cross-platform campaign can extend its reach and impact, deepen customer engagement, and leverage data-driven insights to optimize marketing strategies. It creates a cohesive and multi-channel approach that maximizes the effectiveness of advertising efforts and strengthens the overall customer journey.
Companies that Benefit from Reaching Homeowners
What types of brands can benefit from targeting homeowners? Hint: it's not just real estate.
Finance: Who do new buyers turn to when shopping for a new home or refinance a mortgage? Financial brands, such as banks and local credit unions providing homeowners insurance, mortgage financing, and other financial services related to homeownership.
Home Services: In 2023, homeowners plan to spend an average of $15,000 on renovations and home-related activities, including renovating, repairs, and maintenance. Brands that offer products or services in this area – electricians, HVAC companies, plumbers, home security, home appliances, and electronics – are best suited to capture these dollars.
Retail: While retail is a broad category, several subsets of retail can see great results when targeting homeowners. These subsets of retail include:

Furniture, decor items, and accessories to enhance the aesthetics and functionality of homes
Interior design, home staging, and home decor accessories
DIY materials such as tools, building materials, appliances, and fixtures
Storage solutions, closet organizers, and other products to help homeowners declutter and optimize space
Outdoor needs, including gardening tools, lawn care products, patio furniture, and outdoor living accessories
7 Strategies for Marketing to Homeowners and Buyers
When marketing to homeowners and buyers, it's essential to consider their specific needs, preferences, and pain points. Here are some strategies to effectively reach and engage this target audience:
1. Always Think About Your Buyer Personas
Homeowners and buyers have different needs and motivations – a Boomer's needs will dramatically differ from Gen Z's. Create persona profiles to segment your audience based on demographics, location, property type, lifestyle, and stage of the homeowner's journey. This research allows for more targeted and personalized marketing messages and offerings.
2. Find Where Your Homeowners Are
To find where your homeowners are (aka what media they consume, their physical location, social media networks they belong to, and their life stage), you can employ several strategies to gather data and insights about your target audience. Consider market research, analyzing existing customer data and public data sources, and digital analytics. Remember that combining multiple data sources and strategies will provide a more comprehensive understanding to create a more effective campaign.
3. Staying Proactive is Crucial
The market for homeowners is highly competitive, with numerous brands vying for their attention. By keeping in tune with industry trends, new technology, and consumer behavior, proactive brands can differentiate themselves from competitors, offer new and innovative solutions, and collect untapped opportunities.
4. Consider Seasonality
Part of staying proactive is considering the seasonality of your product or service. It might not make sense for some brands to advertise year-round. Or does it? Home service brands, like HVAC companies, know business will boom during peak seasons and be slow during off-seasons. While it might make sense to only advertise during peak seasons, consider the power advertising in off-seasons could have. The goal should be to get ahead of seasonality and generate awareness before peak season, which can make or break a year.
5. Zero in on Local Advertising
A great feeling of local community encourages a sense of belonging, participation, philanthropy, volunteerism, and civic engagement. Many homeowners recognize the value of community involvement and actively contribute to making their local areas better places to live. They also tend to frequently support their small, local brands by shopping at neighborhood stores and local establishments because they understand the importance of a vibrant neighborhood economy.
As a result, homeowners often turn to their local news stations for the information they need to be actively involved and support the local community. Being present on local channels can help your brand establish a connection to these areas and be a part of something special on top of generating sales. 
6. Utilize Social Media
It's always important to consider how social media influences your marketing strategy. It can complement TV and streaming campaigns, extend a campaign's reach, increase visibility, be a tool for engagement and customer service, and foster long-lasting relationships. And social media doesn't need to be digital ads. Consider joining local message boards on Facebook and introduce your brand and engage with the local community.
7. Think About Partnering Up
First, choose a partner that makes sense. Is their target audience your target audience? How will the consumer benefit from this partnership? Once established, a strategic alliance can help introduce your brand to a broader audience and participate in cross-promotion and co-marketing strategies. Known as the halo effect, the right partnership – such as with your local news station – can cause your brand to gain credibility and trust by association with an endorsed, affiliated, or reputable partner.
This halo is something Duane Charping, CEO of Roof Fix in San Antonio, can attest to. "Our partnership with KENS5 changed our entire business in getting our message to our ideal customer. If we did not have the success we had in broadcast TV, we would not be here today," says Charping. "I will say there's loyalty from the TV industry that I appreciate. They called you because they saw you on TV. They trust you because you're on TV, and they relate to you and the KENS5 family." 
Examples of Companies Connecting with Homeowners
Now that we know what goes into making a great ad campaign, what examples can you use to draw inspiration? Here are three examples of brands in different industries that have utilized TV, streaming, and digital advertising with TEGNA's local news stations.
Real Estate: Home Go Partners with WFAA
Home Services/Plumbing: Bill Howe Plumbing Leverages KFMB
Brock Built Homes Build Trust with 11Alive
Get Started on a Homeowner Marketing Strategy with TEGNA Today
TEGNA delivers tangible brand results by connecting your brand to the audiences that matter most via Broadcast TV, Streaming Advertising, and Digital Solutions, including Targeted Display & Retargeting,​ as well as campaign measurement ​and optimization with ​TEGNA Attribution. ​TEGNA stations also offer a variety of customizable content sponsorships. Let's get in touch if you're thinking of amplifying your brand's TV efforts or joining TEGNA affiliates to serve the greater good of our communities.